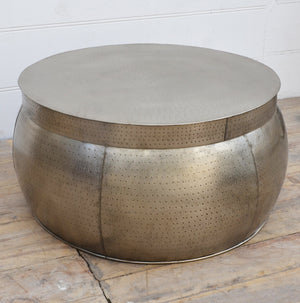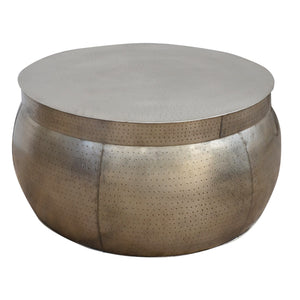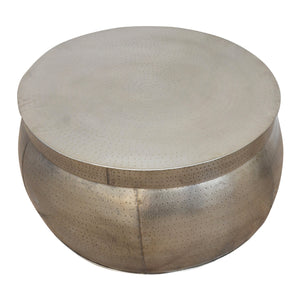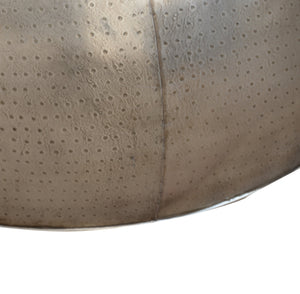 Hammered Metallic Coffee Table
HAMMERED METALLIC COFFEE TABLE
The metallic finish of this stunning handcrafted coffee table makes it an instant signature piece in living areas. The table's key feature, second to its sheen, is its striking hand hammered finish. This is a piece that suits a range of interior styles - from modern to eclectic and even boho-chic-style spaces. A must-have furniture piece.
SPECIFICATIONS
SIZE: 82CM X82CM X HEIGHT 45CM
MATERIALS: METAL AND HAND FORGED

DISCLAIMER: WE SELL HAND PICKED, HAND CUT, HAND BUILT, HAND FINISHED FURNITURE AND ACCESSORIES USING TRADITIONAL METHODS. WE MAKE FURNITURE AND ACCESSORIES TO A STANDARD OF PRODUCT INTEGRITY, QUALITY AND FINISH. ANY IRREGULARITIES ARE CHARACTERISTICS OF ITS HANDCRAFTED ORIGINS AND IT IS ONLY NATURAL THAT OCCASIONAL DEVIATION IN COLOUR, GRAIN, TEXTURE AND CONSISTENCY OCCUR. IT IS EVEN POSSIBLE THAT SOME PARTS OF THE TIMBER MAY OPEN UP IN AREAS. THIS IS THE PART OF THE ORIGINALITY OF THE TIMBER, THE DISTRESSED FINISH, AND THE UNIQUENESS OF EACH PIECE.
---