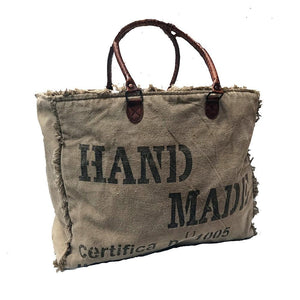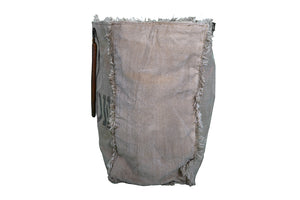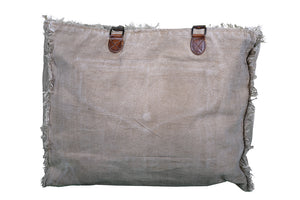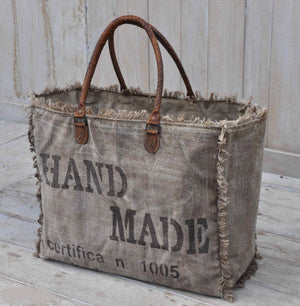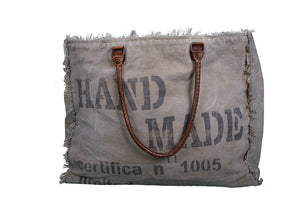 Cowhide Leather Bags & Cushions
Fringed Hand Made Canvas Bag
FRINGED HAND MADE CANVAS BAG
Created from repurposed army tent canvas and rich leather, the Fringed Hand Made Canvas Bag is part of our large collection of shoulder bags. It emanates a vintage characteristic that is highly unique.
Specifications
Fringed Hand Made Canvas Hand Bag with Leather Handles
Large canvas hand bag/shoulder bag
Hand made.
Vintage style.
Made from old recycled tent canvas with leather
Product size: 50x37cm
Packaged dimensions: 43x38cm
DISCLAIMER: WE SELL HAND PICKED, HAND CUT, HAND BUILT, HAND FINISHED FURNITURE AND ACCESSORIES USING TRADITIONAL METHODS. WE MAKE FURNITURE AND ACCESSORIES TO A STANDARD OF PRODUCT INTEGRITY, QUALITY AND FINISH. ANY IRREGULARITIES ARE CHARACTERISTICS OF ITS HANDCRAFTED ORIGINS AND IT IS ONLY NATURAL THAT OCCASIONAL DEVIATION IN COLOUR, GRAIN, TEXTURE AND CONSISTENCY OCCUR. IT IS EVEN POSSIBLE THAT SOME PARTS OF THE TIMBER MAY OPEN UP IN AREAS. THIS IS THE PART OF THE ORIGINALITY OF THE TIMBER, THE DISTRESSED FINISH, AND THE UNIQUENESS OF EACH PIECE.
---