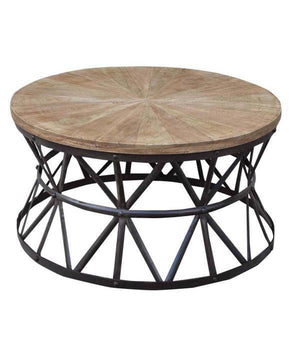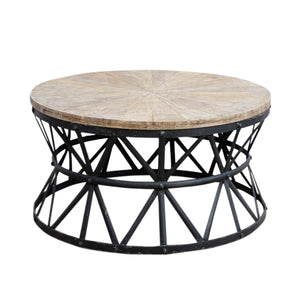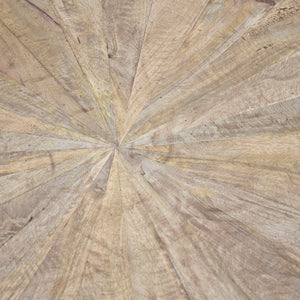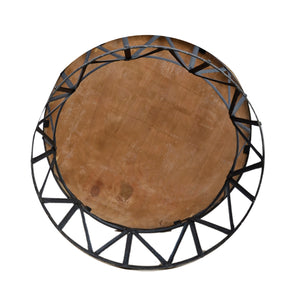 Round Handmade Wrought Iron Wedge Coffee Table
$675.00 AUD $1,080.00 AUD
ROUND HANDMADE WROUGHT IRON WEDGE COFFEE TABLE 
This Round Handmade Wrought Iron Wedge Coffee Table, is a charming piece. The natural finish of the wooden table top is sure to complement any setting.
Specifications
Handmade Cast Iron & Wood Round Coffee Table 92cm
Hand made
Round table top made from recycled hardwood mango timber
Cast iron body and frame
Natural finish
Dimensions: 92cm(diameter) x 49cm(height)
DISCLAIMER: WE SELL HAND PICKED, HAND CUT, HAND BUILT, HAND FINISHED FURNITURE AND ACCESSORIES USING TRADITIONAL METHODS. WE MAKE FURNITURE AND ACCESSORIES TO A STANDARD OF PRODUCT INTEGRITY, QUALITY AND FINISH. ANY IRREGULARITIES ARE CHARACTERISTICS OF ITS HANDCRAFTED ORIGINS AND IT IS ONLY NATURAL THAT OCCASIONAL DEVIATION IN COLOUR, GRAIN, TEXTURE AND CONSISTENCY OCCUR. IT IS EVEN POSSIBLE THAT SOME PARTS OF THE TIMBER MAY OPEN UP IN AREAS. THIS IS THE PART OF THE ORIGINALITY OF THE TIMBER, THE DISTRESSED FINISH, AND THE UNIQUENESS OF EACH PIECE.
---