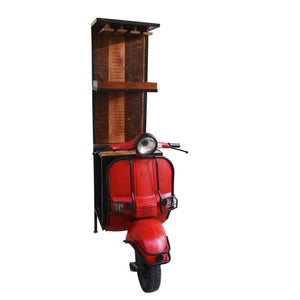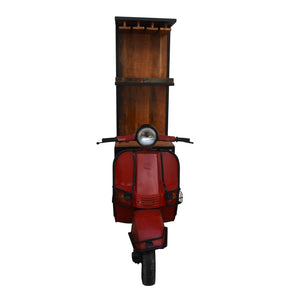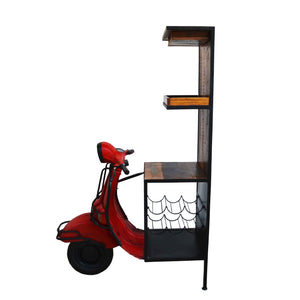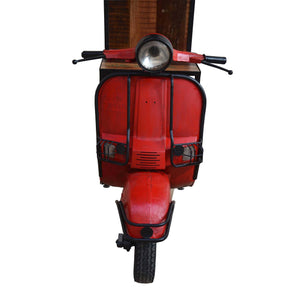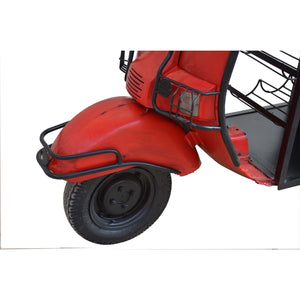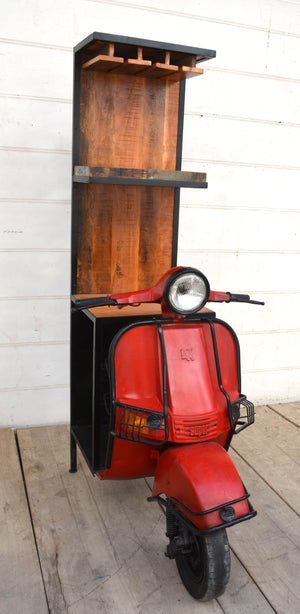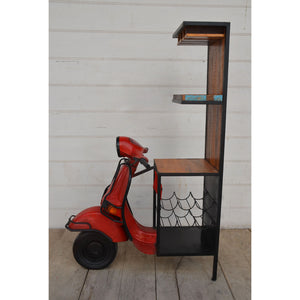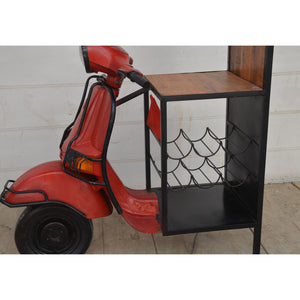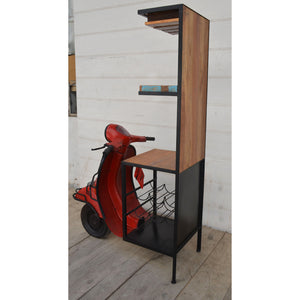 Converted Motor scooter wine bar
$1,499.00 AUD $2,000.00 AUD
Our Converted Vespa wine bar features a genuine maroon painted Vespa facade, complete with a front headlight and wheel. A tall display wine bar made from reclaimed timber protrudes from the back of the Vespa. This wine bar is perfect for making a strong visual statement, while also being practical for storage and display. This piece will sit proudly in industrial and modern spaces, where unique design is the key feature, with room to hang wine glasses and store Wine bottles.
SPECIFICATIONS
Repurposed Actual Indian Motor scooter

Bottle storage and Wine glass holder
Head light is not working.. Display only
1 Shelf... Recycled hardwood Timbers will vary from photo..
Distressed finished timber
Distressed finished metal
Actual item may vary from photos
Size: Height 180cm Width 102cm Depth 50cm
Hand made and repurposed.. Actual item may vary from photograph
Frame: metal

Shelves: mango wood
DISCLAIMER: WE SELL HAND PICKED, HAND CUT, HAND BUILT, HAND FINISHED FURNITURE AND ACCESSORIES USING TRADITIONAL METHODS. WE MAKE FURNITURE AND ACCESSORIES TO A STANDARD OF PRODUCT INTEGRITY, QUALITY AND FINISH. ANY IRREGULARITIES ARE CHARACTERISTICS OF ITS HANDCRAFTED ORIGINS AND IT IS ONLY NATURAL THAT OCCASIONAL DEVIATION IN COLOUR, GRAIN, TEXTURE AND CONSISTENCY OCCUR. IT IS EVEN POSSIBLE THAT SOME PARTS OF THE TIMBER MAY OPEN UP IN AREAS. THIS IS THE PART OF THE ORIGINALITY OF THE TIMBER, THE DISTRESSED FINISH, AND THE UNIQUENESS OF EACH PIECE.
---